Description
The GearMo GM-3DH 4 Port USB 3.0 Hub Series, built with a small and compact design, it contains a built-in VL812 controller chipset that allows backwards compatibility with USB 2.0. When connected, the GM-3DH series 4 Port USB 3.0 Hub allows you to expand the use of 4 additional USB 3.0 ports to your system. This will allow you to connect to any USB Drive, Card Reader, or Cell Phone for data transmission or charging, including any other USB peripheral for desired use. This Hub will provide a transmission rate up to 5Gbps per each port.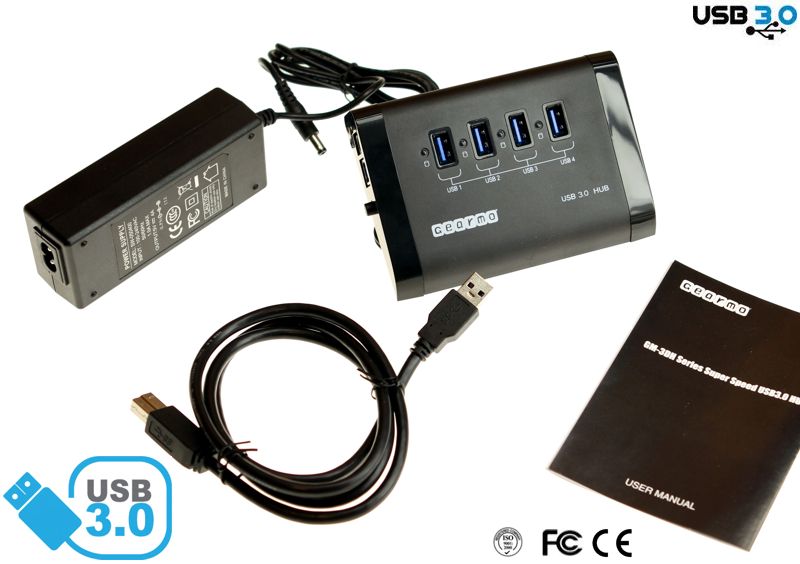 The GearMo GM-3DH Series USB 3.0 Hubs feature an extruded aluminum construction which provides excellent heat dissipation and exquisite workmanship. Built with a 15° ergonomic interface, this Hub has a sleek profile and with the functionality of an integrated charging controller circuit, your devices can use charging time when needed. The integrated charging controller provides Digitally Charging Ports (DCP) as well as Charging Downstream Ports (CDP) conformed to USB Battery Charging 1.2 spec. The charging capacity is 3 times  that of any ordinary USB charging port. Built-in handlers for overvoltage, overcurrent, and leakage help prevent damage including a Short-Circuit protection module for the device(s) connected to the Hub. The GM-3DH 4 Port USB 3.0 Hub provides you with an ideal solution to expand the amount of USB3.0 super speed ports available on your computer.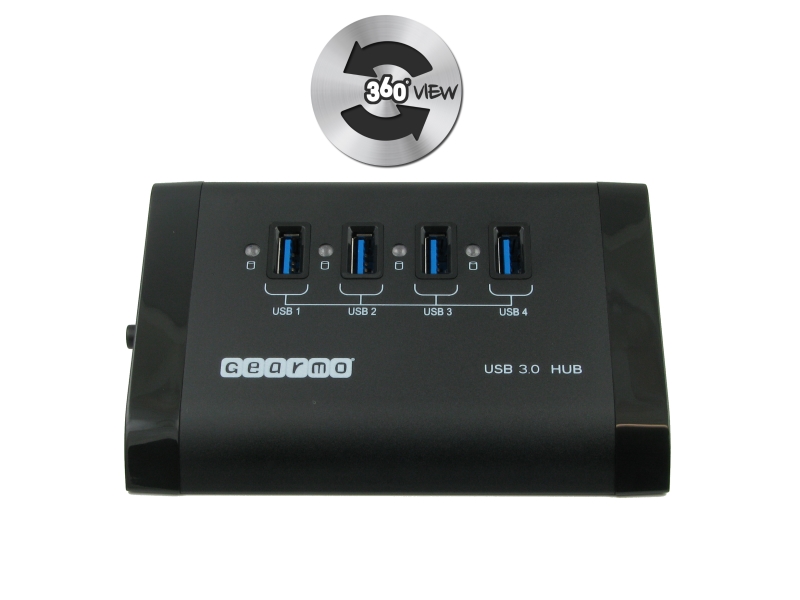 Features & Specifications:
Adds 4 USB 3.0 Super Speed ports easily.
Full aluminum construction with sleek profile and solid feel.
Excellent heat dissipation.
15 degree ergonomic interface making USB 3.0 ports easily accessible.
Unique Bright Blue LED indicator for device status
Extremely fast and reliable USB 3.0 VL812 Control Chipset.
Data transfer of up to 5Gbps per USB port.
Supports over-voltage and instant current protection, protects devices connected to the Hub.
Backwards compatible with USB 2.0.
Plug and play support.
Hot swap support.
Product Specifications:
Product Name: GM-3DH Series Super Speed USB 3.0 HUB
Product Model: GM-3DH4 (4 ports)
Material: Full Extruded Aluminum
Color: Black/Silver
Dimension: 125x90x32 (GM-3DH4)
Input: USB 3.0 x1 / DC-IN Power interface
Weight: 190g (GM-3DH4)
OS Support:
WinXP, 2000, 2003, Vista, 7, 8, and Windows 10
Linux
Mac OS 10.X
Package Contents:
High Speed 4 Port USB 3.0 Hub
High Speed 3.5' USB 3.0 Cable
Power Supply
Manual