Description
This active USB 3.0 22ft. Extension Cable allows you to connect a USB 3.0 Super-Speed and/or a USB 2.0 high speed device up to 22 feet away from your computer. Over-current detection and protection built in, Plug and Play connection and Hot Swap features.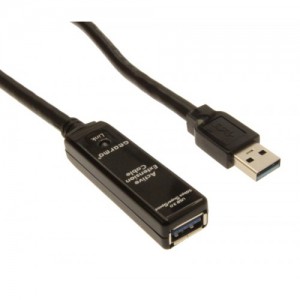 USB 3.0 22ft. Extension Cable is constructed of Thick Durable Shielded cable for Error-Free data transmission and a Blue Power LED indicating operation. The AC power input auxiliary port is for an optional power booster connection for additional power. The USB3-EXT22 can be used to extend the cable length of any USB 3.0 device. This USB active cable acts as a transparent USB 3.0 Hub Therefore there is no data lost and no drivers required!
Unlike passive extension cables, the USB 3.0 22ft. Extension (USB3-EXT22) is a USB 3.0 Certified Active Extension Cable (using VL chip) is an active device that buffers the data going in and out to assure that signal always meets the USB 3.0 Electrical and Timing Specifications.
Product Features:
USB 3.0 specification compliant.

Data transfer rate up to 5.0 Gbps.

True Plug and Play.

No external power required for Low Power Devices.

22 foot cable length
Compatibility:
Perfect solution for USB Hard Drives, Adapters, web Cam, USB Hubs, USB projectors, USB interactive white boards, printers and much more.
OS Support:
Windows 98
Me
XP
2000
2003
CE
Vista
Windows 7
Windows 8
Linux
Mac OS 10.X
Package Contents:
USB 3.0 22ft. Extension Cable (7-Meter) with Power Input
AC Power Adapter may be Required for High Power Consumption Devices like Hard Drives. Optional AC Adapter Sold Separately: