Choosing the Right Industrial USB Hub
Industrial installs require reliable equipment. Solid USB communications, dependable data transfers between hosts and peripherals, and ESD protection for all downstream connections are not just beneficial — they're crucial. There's plenty of factors that go in to choosing the right industrial USB hub for the project, and plenty more manufacturers of hubs to choose from. Comparing these options with a project's needs in mind, assists in making the right decision. In the spirit of helping our customers make these informed decisions we chose to pit our hubs against the competition to see where we land.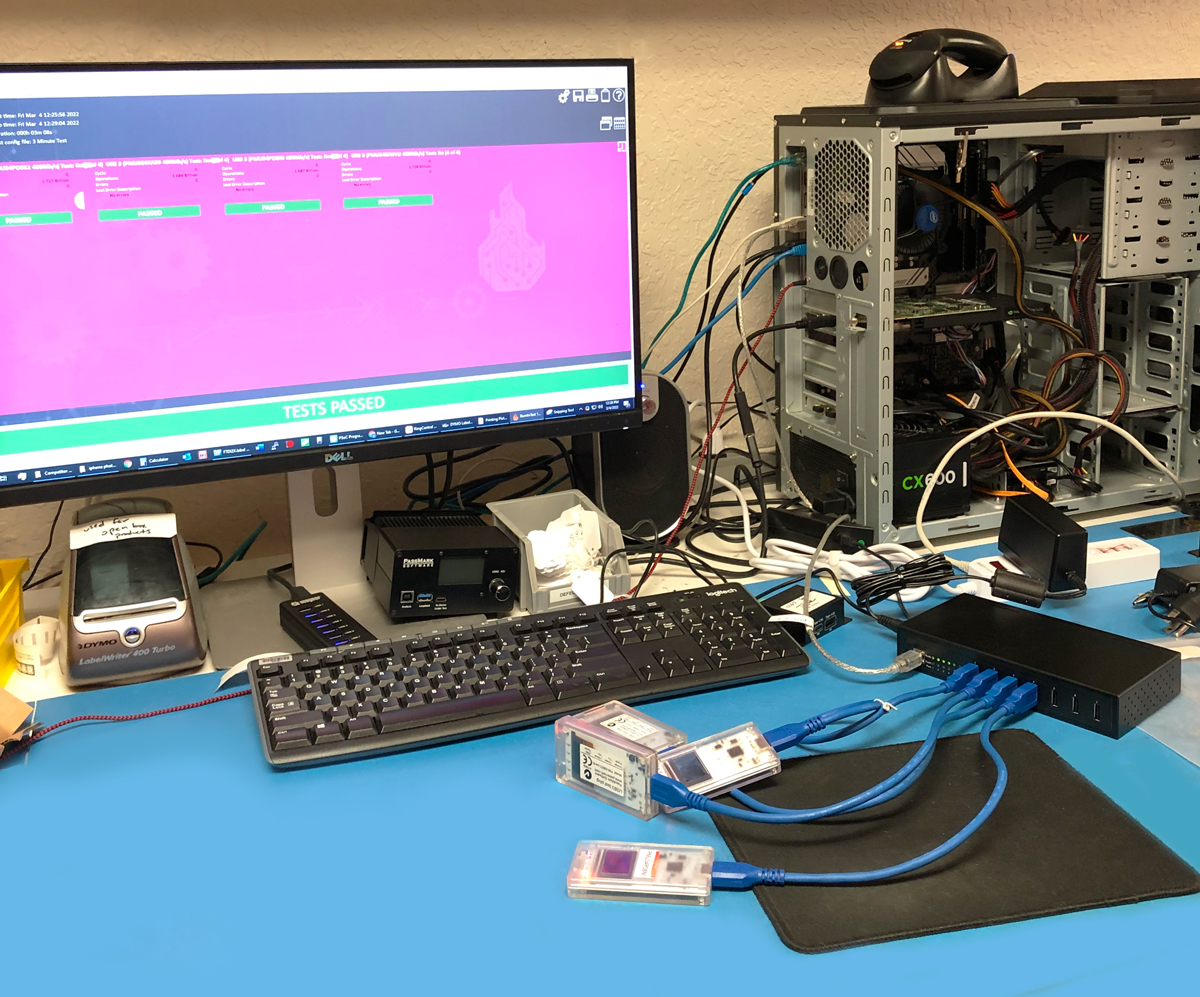 Let the Testing Commence
Our team gathered 4 competitors' industrial USB hubs alongside Gearmo's GM-HU37 and GM-HU37DW to see just how they stack up. The selected hubs were all physically and electronically comparable options, none boasting any clear hardware advantages over the others. Making use of the Passmark BurnInTest V9.0 as well as Passmark 3.0 USB 3.0 testers, our team tested each hub in a controlled environment on a Windows 10 system, focusing on the benchmark read, write, and loopback rates.
Need for Speed
Below, you can view the read, write, and loopback rate speeds of Gearmo's hubs alongside the competition's hubs for comparison. In terms of speed, Gearmo's hubs performed relatively similarly to the pace of others. All speed tests showed that each hub performed within the same margin. Speed-wise, no competitor, or Gearmo, hub is running any laps around its fellow test subjects. There are, however, a few traits that set Gearmo's GM-HU37 and GM-HU37DW hubs a step above.
| | | | | |
| --- | --- | --- | --- | --- |
| Hub | Read Rate Avg. | Write Rate Avg. | Loopback Rate Avg. | Errors |
| GM-HU37 | 749.1 Mb/s | 899.2 Mb/s | 858.1 Mb/s | 0 |
| GM-HU37DW | 670.3 Mb/s | 898.9 Mb/s | 716.5 Mb/s | 0 |
| Competitor Hub #1 | 784.9 Mb/s | 909.4 Mb/s | 784.2 Mb/s | 0 |
| Competitor Hub #3 | 833.1 Mb/s | 899.9 Mb/s | 864.1 Mb/s | 0 |
| Competitor Hub #3 | 794.2 Mb/s | 900.3 Mb/s | 1114.9 Mb/s | 0 |
The Price is Right
Compared to the competition, Gearmo's industrial USB hubs come at a lower price point. For casual or commercial installs, their current price point makes for a better deal than other offerings. Especially for the same industrial-grade, rugged metal chassis, comparable data speeds, and ESD surge protection with an included power adapter to boot, Gearmo's hub pricing is a clear winner. You can have safe, reliable connections for your next project without exhausting your budget.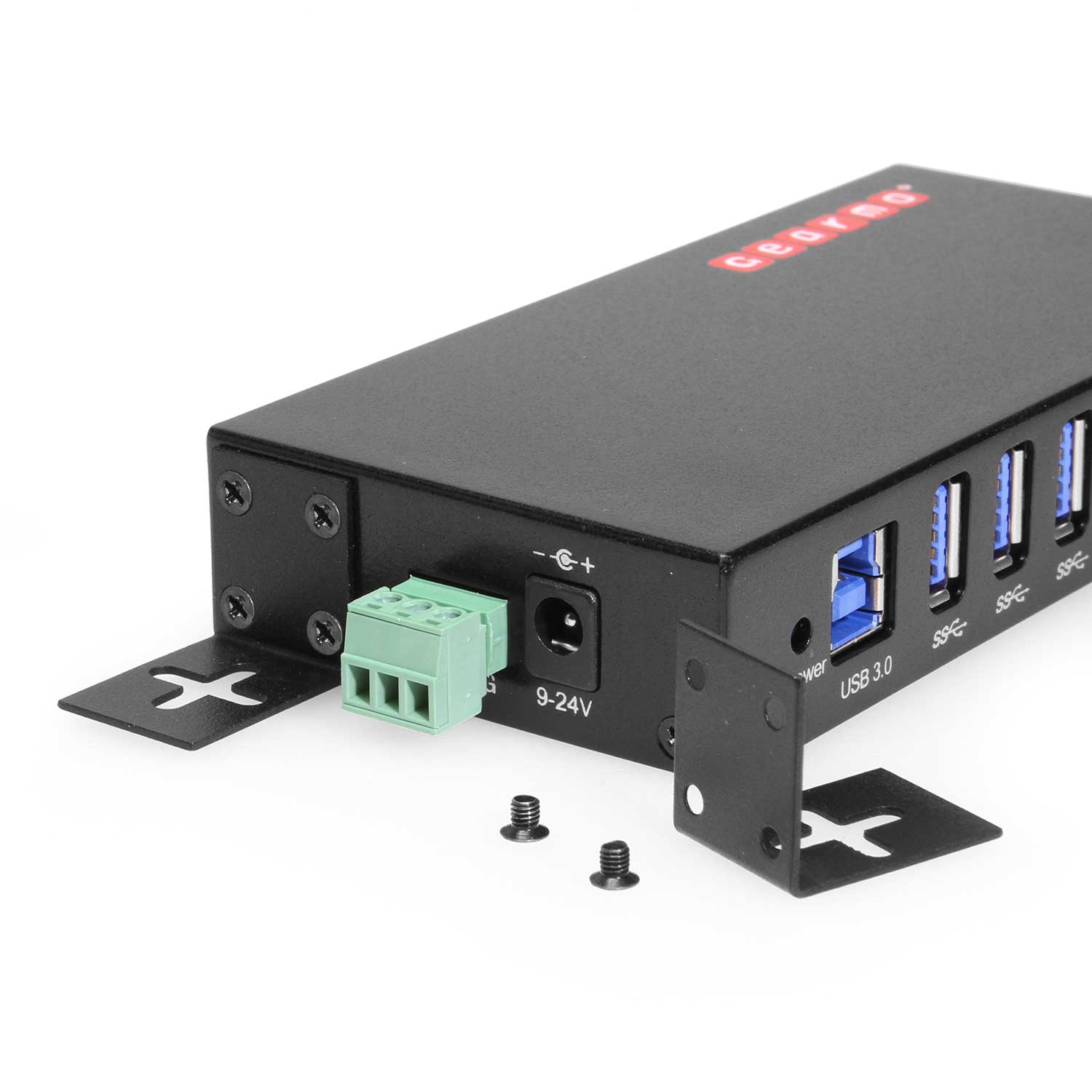 Hardware Your Way
Right off the shelf both the GM-HU37 and GM-HU37DW USB hub packages include optional surface mount flanges and DIN-Rail mounting brackets. No matter the project, Gearmo's has you covered for desktop, wall, and surface mounting as well as DIN-Rail installs. The same Gearmo USB hub can mount within a kiosk install just as easy as mounting discreetly below one's desk for a clean desktop.
In the same vein as the customizable mounting options, Gearmo's industrial hubs also offer another choice. Both the GM-HU37 and GM-HU37DW, as well as other hub offerings, offer 2 differing power inputs. Compared to the competition, Gearmo's hubs allow 2-Pin Terminal Block connections as well as DC Barrel input options for power. Giving you an unmatched flexibility for your next project at a respectable price point.
Final Thoughts
After completing these tests and comparisons, the main distinction regarding our products is the flexibility to fit you install requirements. Gearmo is here to offer quality, ready-to-install, connectivity solutions at an affordable price. From industrial USB hubs to serial cables and adapters Gearmo offers a wide variety of connectivity solutions . Friendly competition amongst products can only aid customers in making an informed purchase. We stand behind our products and our mission to provide reliable connectivity solutions and products for all your growing peripheral needs.