Description
GearMo® USB 2.0 Rugged 4 Port Hub with Power Adapter
The USB 2.0 (GM-HU24-PS) High Speed 4-Port Hub is designed as a rugged industrial style hub. It includes mounting brackets, DIN-Rail mounting kit, and power adapter included. GearMo's metal hub supports 4 USB 2.0 upstream port connections and 1 USB 2.0 Type "A" to "B" Downstream from the host computer.
The USB 2.0 hub includes an optional 9-24V power jack receptacle for power hungry devices. It also includes separate 3-wire terminal block power connector for use with DIN Rail Mount operations. The GearMo 4 port USB 2.0 industrial Hub includes 15KV ESD protection, Power input surge protection of 600W each port and independent over-current protection.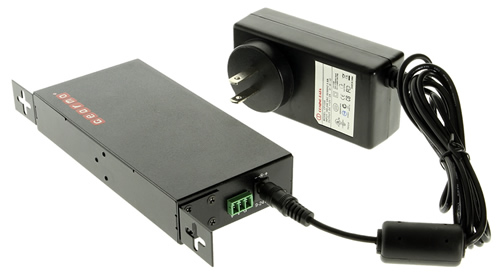 USB 2.0 Hub Mounting Options
The GM-HU24-PS Hub has multiple mounting options available depending on its usage. The USB 2.0 Hub can be mounted via mounting brackets that are secured by four individual screws per bracket on both ends of the Hub. The bracket flange is a slotted design to allow for movement when fastening the Hub to a wall or table top. The GM-HU24-PS USB 2.0 Hub also includes a DIN Rail Mount bracket that secures to the rear panel via three screws keeping the Hub secured to the DIN-Rail.
4 Port USB 2.0 Hub Features
USB 2.0 High-Speed standards compliant and backward compatible with Full Speed USB 1.1/1.0
Adds 4 additional USB High Speed ports
Constructed with an Industrial designed rugged metal chassis
Includes both DIN-Rail and mounting brackets for multiple mounting options
uses NEC uPD720114GA Chip set
supports Full-speed Packet Protocol Sequencer for Endpoint 0/1
Power LED indicator
Built-in optional 9-24V power supply receptacle (Power supply included) for heavier power demands
Built-in 3-wire Terminal Block connector for additional power (Male 3-wire connector included)
Supplies 15KVDC ESD protection to all ports
Supplies power input surge protection of 600W per port
Item Dimensions: 5.375" (W) x 2.750" (D) x .984" (H)
Technical Specifications
Operating Temperature:0°C – 40°C
Operating Humidity: 5% – 85%
Storage Temperature: -20°C ~ 50°C
Storage Humidity: 5% – 95%
Operating Altitude: -1000 to 10000 FT.
Chipset: VIA VL811+
Supported OS include Windows XP, 7, 8, Windows 10, Mac OS x and Linux
Compliant with Universal Serial Bus 2.0 Specification
Maximum data transfer rate: 480Mbps
Surge Protection: 600W (max)
Metal housing with mounting mechanism
Interfaces/Ports:

Input: 1, 9-pin, USB 2.0, Type B, Female
Input: 1, Terminal block (3-Wire), Power
Input: 1, DC power adapter jack
Output: 4, 9-pin, USB 2.0, Type A, Female
OS Support
Windows XP, Vista, 7, 8, Windows 10
Mac OS X, Linux