Description

USB-C PD 50W Notebook Portable Power Dock Adapter/Charger
Gearmo's USB-C PD Notebook Power Dock adapter replaces your existing bulky power block for your notebook computer. It works with any notebook that uses a type-C port connection for its power delivery method.
This USB-C PD notebook power dock is a multi functional adapter with charging capability. It can be used as a USB 3.1 Gen1 two port hub through its USB-A ports, and a USB 3.1 Gen1 Type-C port. All with up to 5Gbps data transmission. The adapter also allows for an HDMI connection through its HDMI A Type output port. Power is supplied from a 100V~240V AC wall outlet.
---
There are several ways in which to use the USB-C 50W Notebook power adapter, see below:
Charge laptop and portable devices at the same time, as well as transferring data; simultaneously playing movies stored on a connected external drive displaying High-Def video output.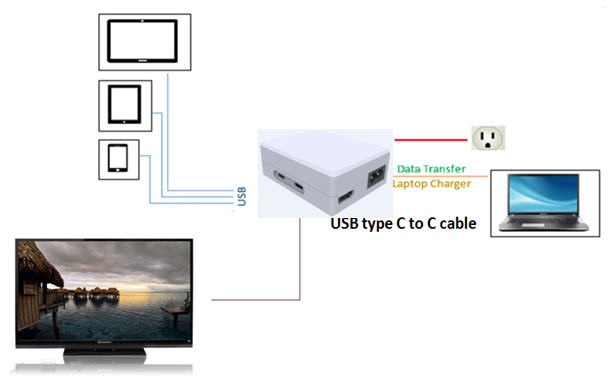 Works as a BUS POWERED USB 3.1 GEN1 Hub + HDMI PORT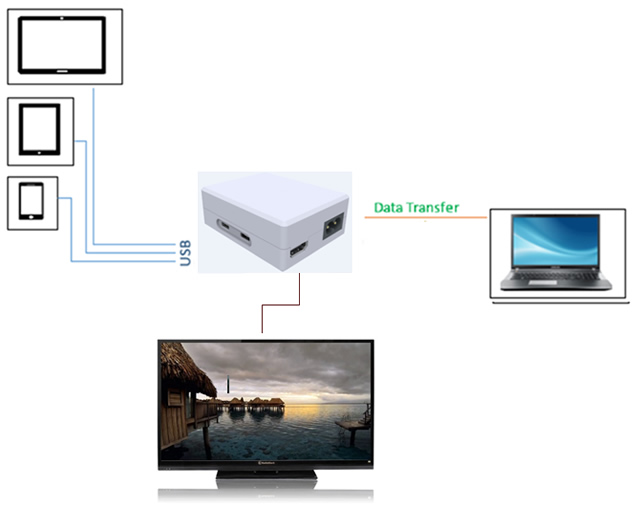 Using as a UNIVERSAL USB POWER CHARGER or a UNIVERSAL NOTEBOOK TYPE C POWER ADAPTER

---
50W USB-C Portable Notebook Power Dock Adapter Features
100/240VAC Universal AC input supported
(up-stream) USB3.1 Gen1, type C, PD – 5 voltage levels supported (5V/9V/12V/15V/20V)
(down-stream) USB3.1 Gen1, type A x 2, USB 3.1 Gen1 type C x 1, 5V/3A
Type A ports support USB Battery Charging Specification 1.2. USB Charging Modes – SDP, CDP, DCP, with dead battery support.
Supports Apple, Samsung Galaxy fast charging on Type-C PD port.
HDMI A type port.
Supports up to 192kHz audio frame rate and up to 24-bit audio sample size
Specifications
50W rated NoteBook adapter with:
100/240VAC Universal AC input supported
(up-stream) USB 3.1 Gen1, type C, PD – 5 output voltage levels supported
(down-stream) USB3.1 Gen1, type A x 2, USB 3.1 Gen1 type C x 1, with individual output 5V/1.5A, and USB IF BC1.2 fast charging supported.
HDMI type A receptacle
AC/DC Power board is integrated inside the product, no external AC Adapter
80mm x 61mm x 26mm external dimension
Item Weight: 7.7 oz (.48 lbs)
Protection
Over Current Protection
Over Voltage Protection
Over Temperature Protection
Over Power Protection
HDMI 1.4 Supported / HDMI A type receptacle
Supports up to 192kHz audio frame rate and up to 24-bit audio sample size
---
Package Contents
USB C PD 50W Portable Power Dock Adapter
1.5m AC Power Cord
45cm C – C Cable