What is USB-C?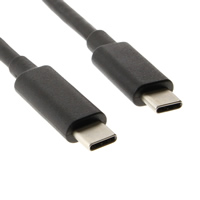 USB-C™ is the newest USB connector on the block, it's also called USB Type-C™. No matter how you refer to it, Type-C is widely becoming the new go to USB interface. Technically it's just another USB connector but it has opened doors in laptop, notebook, and Smartphone manufacturing and their applications.
Imagine going to your local electronics store to shop for a new MacBook Pro, or Dell laptop. After checking them out, you've noticed the Type-A port is missing, along with a serial port and RJ45 Ethernet port. In place of all that is a narrow little slot, that's the USB-C connection port! USB-C is becoming widely used and soon will replace legacy connections such as USB-A, B, Micro-B and others.
No need to worry, we have you covered! What were USB-A to A or A to B cables are now USB-C to A or USB-C to B cables. Your legacy devices can still work through a USB-C interface if you purchased a new computer with a Type-C port.
Why is USB-C So Popular?
USB-C is small and its connection orientation is reversible because of its 24 pin construction, upside down or right side to, it will work! The USB-C format has become adaptable for other connectors but can also handle power delivery to laptops, notebooks, or tablets.
USB type-C applications have integrated with popular video connectors like HDMI, DVI, VGA, and DiplayPort adapters with amazing fidelity and crystal clear resolutions. Here's an example of a USB-C adapter with video port integration:

A USB-C adapter with HDMI female port allows the connection of an HDMI cable from the host computer to the monitor or projector. The difference here is that the HDMI output is coming from the USB-C port and not directly from an HDMI port in the computer. The supporting features of this kind of adapter's output are 1080p at 60Hz or UHD 3840 x 2160 at 30Hz, essentially a 4K output with ultra high definition.
USB Type-C Applications
As we've already said, Type-C is becoming a widely used connection; this is mainly due to the manufacturing push into mobile phones, laptops, and notebooks where a Type-C port is either the only port available or one of only two choices. The two examples below of USB Type-C products are of a Dell XPS 13 Convertible and a Skull Canyon NUC, both use USB-C differently.
The USB-C applications for these two items are used differently although they are the same 24-pin Type-C connector, in these applications; Power and USB 3.1 Thunderbolt are used. Notice that the Dell XPS 13 has only these two USB-C ports, it does not incorporate other USB ports such as USB Type-A.
The versatility of USB Type-C with legacy applications still applies to USB 2.0 and USB 3.0 device that were manufactured with older USB connectors. See the short list below of the more commonly used connectors.
USB Type-A male & A female (USB 2.0 & USB 3.0)
USB Type-B male & Micro-B male (USB 2.0 & USB 3.0)
USB Micro-A male (USB 2.0 & USB 3.0)
Common USB connectors have already been integrated with USB-C type cables for legacy device applications. Adapters that have also been integrated with Type-C are:
Serial RS-232, RS-422, RS-485 (DB-9 and Terminal connector styles)
Video (Includes DVI, HDMI, VGA, Thunderbolt, and DisplayPort
Ethernet adapters (RJ45 connector)
USB-C PD and Power Adapters