Description
120W 10-Port high output USB charging station for U.S. only power sources
The GearMo iCS-10P-HO USB charging station is a 120W USB charger with an AC input of 100-130V with 2.4A of current and 50/60Hz. It is built to charge up to 10 high power consuming devices such as iPads, iPhones, Tablets, and more, Always check your device owners manual for power requirements.
Use this USB charging station where your devices are used most often such as a family room, office area, hotel, or other places you may require charging. The USB charger's power requirements are for U.S. only power outlets and does note meet standards outside the U.S. The charger includes auto protection for over-current, over-voltage, and short circuit protection while in use with your devices.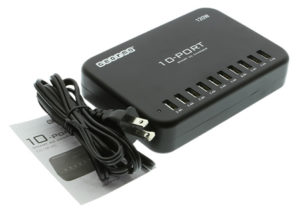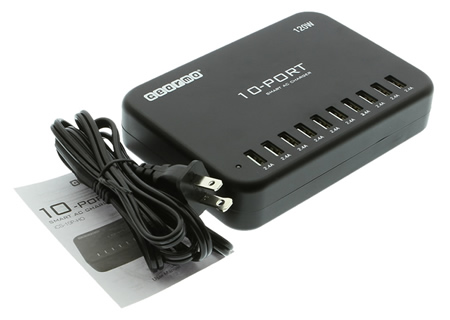 Product features
Independent USB output and fast charging capabilities for charging up to 10 iPads or tables at once.
Auto detecting for charging current with an intelligent design.
Smart auto protection.
LED Indicator
Multiple safety protections: over-current protection, over-voltage protection, short circuit protection, and over-temperature protection.
Approvals: CE, PSE, SAA, ETL, KC
Constructed with ABS-PC material
Compatible with most USB devices
Specifications
Model number: iCS-10P-HO
Input: AC 100-130V 2.4A 50/60Hz
Output: DC 5V 2.4 * 10
Dimensions: 156 x 109 x 33mm
Protection Functions: OCP, OVP, SCP, OTP
Note: This 120W USB charging station follows U.S. power standards only, using this charger outside the U.S. may result in damage to your devices.