Description
USB 3.0 Type-C 3-Port Hub with Built-in SD Card Reader
The GM-C30SDH is a 3-Port USB 3.0 Hub and SD Card Reader combination originating from a Type-C host connection. It is a USB 3.0 data hub with a switchable on/off switch for power allowing the control of 3 connected USB devices. The Built-in SD card reader is compatible with 9 card types including SD, Micro SD, SDHC, SDXC, MMC, RS-MMC, Micro SDXC, Micro SDHC Card, and Support for UHS-I Cards.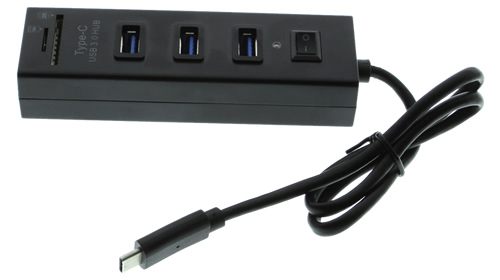 The GM-C30SDH USB 3.0 Hub allows for slow charging while distributing 900mA to each port for low power devices. The connection and use with USB devices such as digital cameras, external hard drives, flash drives, and printers can all operate from a single compact, portable hub. Compliant with USB 3.0 standards, the data Hub combo provides data rates of up to 5.0Gbps via USB and normal SD Card speeds as designated by the SD Card itself, it does not require additional software drivers for the installation process and is installed as a Generic Hub in your system.
USB 3.0 Type-C Hub Features
Easily adds a 3 Port USB 3.0 Hub + TF / SD / MMC card reader combination to Type-C Macbook and other Type-C Supported Devices.
Eliminate the hassle of port connection orientation with Type-C and continue to achieve data transfer rates of up to 5Gbps.
19 inch attached Type-C cable extends the USB 3.0 Hub's distance to the device ports and card reader.
Type-C Host Interface support with plug and play features and hot swap capabilities.
Lightweight and very portable with a power-bar type design for effective use of space.
Blue LED indicates operational when power is switched on.
Designed with a built-in surge protector circuit to protect your USB 3.0 devices.
SD card slots compatible with SD, Micro SD, SDHC, SDXC, MMC, RS-MMC, Micro SDXC, Micro SDHC Card, Support UHS-I Cards.
No Driver Needed and compatible with all version Windows, MAC and Linux systems.
Observe Proper Usage
Due to its 5V 900mA of power, the GM-C30SDH is not meant as a stand-alone charger.
Do not connect the Hub to high power devices (such as HDDs and other office equipment, etc), including high-output devices (such as iPad).
You may find that some USB 3.0 devices require direct connection to host ports for proper functionality.
OS Support
Supported by Windows XP, 7, 8, and 10
Mac OS X and Linux