Description

---
Power Your Devices On The Road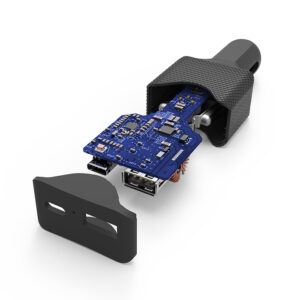 Forget about running a power converter to use your laptop in the car! A car charger for your USB-C laptop, the 60W total output, 45W car charger is a convenient addition to your charging options while on the road, works with the HP Spectra x360.
Slip it in your bag, put it in your pocket, or keep it in your car; either way, you'll have a fast, reliable charging solution at your fingertips.
The sleek design features a single USB-C port, also known as USB Type-C, for worry free connection and a stand-alone USB-A 15W 3A port to charge your lesser power consuming devices, 60 watts total output. Very useful during your travel, or as a spare charger for rental cars.
Works with ALL USB-C enabled devices including the latest 12/13/15 inch MacBook and Chromebook Pixel C as well as Nintendo Switch and HP/Dell type C Laptops. The USB C charger automatically detects the connected device to allow and deliver optimal charging up to 15 Watts on the USB type A port and up to 45Watt on the USB Type C Port.
Testing: tested with Nintendo Switch, Lenovo Yoga, and MacBook Pro
---
50% faster than 5W charging when charging a Google Nexus 5X or similar device from 0% battery
---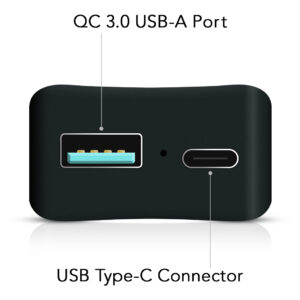 Features
Qualcomm QC 3.0 Port: 12V/1.5A, 9V/2A, 5V2.4A
Works with USB-C enabled smartphones and tablets and Notebooks
Works with USB-A Legacy Devices that require up to 15Watts
The USB-C connector connects to your USB-C device while the USB-A port allows for simultaneous charging of a legacy device
Cigarette lighter for connected power
USB-C 45W DC Car Charger that supports ALL USB PD Profile Voltages
One USB-A Port 15Watt 3A universal charging port
LED Indicator
Dimensions: 81.37mm(L) x 39.97mm(W) x 22.47mm(H)
---
Electrical
45W laptop car charger
Input: DC 11V-16V, 6.3A max
Output: DC 5V-3A, 9V-3A, 12V-3A, 15V-3A, 20V-3A
Quick Charge Technology

The Gearmo 60W USB-C Car Charger takes advantage of Qualcomm® Quick Charge™ 3.0 Technology.

Electronic Versatility

Phones, Tablets, Laptops, and Gaming Consoles are compatible and can be charged with our charger.

Fast Recovery

With 60 Watts of power, you can expect a quick recovery from any battery percentage.