GearMo® Releases one of the Best USB 10-Port Chargers on the Market
CLEARWATER, Fla., March. 9, 2016 – GearMo®, a versatile computer peripheral provider brings USB charging solutions to a new level and announces their 10-Port 120W Smart AC USB Charger Station that will charge ALL your mobile devices!
In a time when we depend so much on mobile device technology, we also depend on its ability to charge successfully when needed, this doesn't always happen as expected.
About the GearMo® 10-Port 120W USB Charger Station
Buy a cell phone, tablet, iPad, digital camera, GPS or other mobile device and watch the stock charger eventually heat up, break down, and stop working. GearMo's new 120W USB charger station with 10 ports will charge these devices and more, safely and efficiently.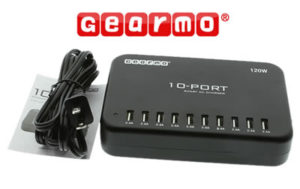 GearMo® has an inventory of many USB chargers; but the new USB 10-Port Smart AC 120 Watt Charger maintains 2.4A of current through each port. GearMo® has built in to this charger an intelligently designed circuit that detects the needed charging current for a device. An example would be an android phone needing 1A to charge and an iPad needing 2.1A to charge, both devices can charge simultaneously because of the current detection circuit.
The GearMo® 120 Watt 10-port charger can support up to 10 simultaneous iPads or tablets at any given time and the same for iPhones or smart phones. This High Output desktop charger is supported only in the U.S with an input AC 100-130V at 2.4A 50/60Hz and an output DC 5V 2.4A. It uses a LED indicator to show power is on.
Using the GearMo® 10-Port 120W AC Smart USB Charger
Although the GearMo® 120W 10-Port USB Charger is not a mini charger, it is compact enough for traveling and can be used in large family rooms, office or meeting rooms, clubs, airport, hotels and more. The USB charging station setup is easy, just attach the included power cord and plug it in to an outlet, then flip the power switch to on and it's ready to be used., it's that simple!
The GearMo® Smart AC 120W 10-Port USB Charger Station is manufactured with OCP, OVP, SCP, and OTP electrical protections and is CE, FCC, and RoHS compliant. If you are tired of constantly buying new chargers for your mobile devices, this GearMo® charging station is the right choice.
About GearMo®
Our mission is to provide our customers with top quality and reliable computer products for legacy and new computer technology. We are helping Commercial and Industrial organizations stay current with today's standards! We are consistently working to create innovative and effective designs while manufacturing to the highest of standards offering 100% satisfaction to you, the customer.
GearMo
Rene Rozycki
Tel: 727-350-5852
Email: [email protected]