USB C PD Power Delivery 75W Output Car Charger for Laptops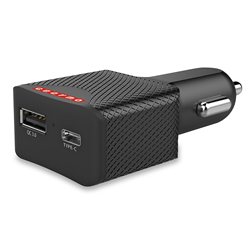 Model Number: GM-UCPDCARB – A new laptop and A Game console with USB-C? You need a new USB-C car charger! Car chargers aren't new, but charging your laptops with USB-C power delivery is. We've put this USB-C car charger to the test, its PD protocol support will power the most power hungry notebooks, laptops, gaming consoles and more on the road. At 75 watts, the USB-C Power Delivery car charger supports C 5V-3A, 9V-3A, 12V-3A, 15V-3A, and 20V-3A devices with no problems. The powerful USB PD features don't stop there, the USB PD car charger is also built with Quick Charge™ QC 3.0 USB-A Port supporting12V/1.5A, 9V/2A, 5V2.4A protocols for quick charging of your non USB-C devices. This USB 75W Car Charger with power delivery can't be beat for its value, quality, and versatility when it comes to charging your USB Devices in the road.
Perfect for the long business road trip where a laptops use is necessary before the meeting or presentation.
Applications: On the road laptop charging, Road trip gaming consoles, Cell phone charging
Product URL: https://www.gearmo.com/shop/usb-c-power-delivery-60w-output-car-charger-laptops-black/
---
USB C PD Docking Station w/Multi-Port USB 3.1 Hub & Display

Model Number: GM-U3CMPUDS – For the laptop user that wants and needs everything right there in front of them! USB-C PD comes in many forms from chargers and hubs to this, a USB-C PD Docking Station. Gearmo's new USB-C Docking station has the ability to connect all your accessories in one location at home or in the office. Some of its features to name a few; it can be used as a USB 3.1 hub with 3 USB-A ports, Charge your Mac book Pro from the USB-C port reversible connection, It will keep you connected to your 10 /100 /1000Mbps Ethernet, and will allow you to copy data to or from an SD or Micro-SD card. The USB-C PD Docking Station requires a Type-C USB host connection to bring everything together for one conveniently located central connection area.
Applications: USB 3.1 Gen1 Hub, High Resolution HDMI display port, 10/100/1000Mbps Ethernet connection, SD/Micro-SD card reader, VGA connection, USB-C charging port for USB-C enabled laptops, Microphone and headphone support.
Product URL: https://www.gearmo.com/shop/usb-c-pd-docking-station-multi-port-usb-3-hub-display/