Description

---

---
USB Power Delivery to Your Devices On The Road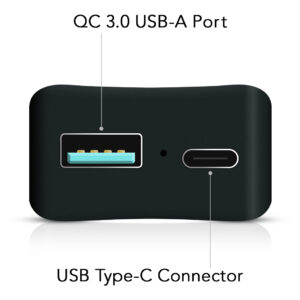 Forget about running out of power when traveling in your car. With the ability to charge various USB-C devices, the black USB C Power Delivery 75 Watt car charger is a convenient addition to your charging options while on the road.
Works with ALL USB-C enabled devices including the latest 12/13/15 inch MacBook® and Chromebook Pixel C as well as Nintendo Switch and HP/Dell type C Laptops. The USB C PD car charger automatically detects the connected device to allow and deliver optimal charging up to 60 Watts on the USB Type C Port and up to 15 Watts on the USB type A port.
Tested with:
Nintendo Switch
Lenovo Yoga
MacBook Pro (13″ & 15″)
HP Spectre x360
Dell XP 13
Cypress IC inside assures universal compatibility.
---
50% faster than 5W charging when charging a Google Nexus 5X or similar device from 0% battery
---

Perfectly Portable

Slip it in your bag, put it in your pocket, or keep it in your car; either way, you'll have a fast, reliable charging solution at your fingertips. The GM-UCPDCARB is extremely portable and is nearly half the size of a mobile phone. Use any power outlet in your car, truck or RV to charge your USB devices on the go.
The sleek design features a single USB-C port for worry free connection and a stand-alone USB-A 15W 3A port to charge your lesser power consuming devices, 75 watts total output. Very useful during your travel, or as a spare charger for rental cars.
---
Watch our video outlining the inner hardware of our car charger to see what makes it work.
---
Worlds Most Powerful Car PD Output

The GM-UCPDCARB is a powerful Type-C power delivery car charger with a total power output of 75W. This is enough power delivery for even the most power hungry Type-C enabled laptops.
Can charge or deliver power to any USB Type-C device.

Easily connects to any Type-C device.

Supports older USB devices that charge from USB-A ports.

93% Max efficiency – Maximum Energy and Low Heat Profile

Supports USB-PD Profiles: DC 5V-3A, 9V-3A, 12V-3A, 15V-3A, 20V-3A.

Uses Qualcomm® Quick Charge™ QC 3.0 Port: 12V/1.5A, 9V/2A, 5V2.4A.

Dimensions: 81.37mm(L) x 39.97mm(W) x 22.47mm(H)
Electrical
75W laptop car charger
Input: DC 11V-16V, 6.3A max
Output: DC 5V-3A, 9V-3A, 12V-3A, 15V-3A, 20V-3A
USB Type C PD Output 60watts
USB Type A Output 15watts
*10/1/2017 GM-UCPDCARB upgraded to 75watts from 60watts.
Quick Charge Technology

The Gearmo 75W USB-C Car Charger takes advantage of Qualcomm® Quick Charge™ 3.0 Technology.

Electronic Versatility

Phones, Tablets, Laptops, and Gaming Consoles are compatible and can be charged with our charger.

Fast Recovery

With 75 Watts of power, you can expect a quick recovery from any battery percentage.

FCC Certified. Certification No.: STS1707093F