Description
This product is discontinued effective March 1, 2018.
Our new 10 Port USB Charger provides you with a simple solution for charging up to 10 different devices simultaneously!
Charge 5 iPads (tablets) or 10 iPhones (smart phones)at once! The 10 Port USB charger station features adjustable power settings, which accommodate for devices with a higher power consumption rate. The first power setting provides you with 10 USB ports for charging at 1.0 Amps per port. The next power setting enables up to 5 USB ports with 2.4 Amps of charging power per port. This charging station utilizes a 60 watt power supply and 10 USB A-type female ports to connect with your devices.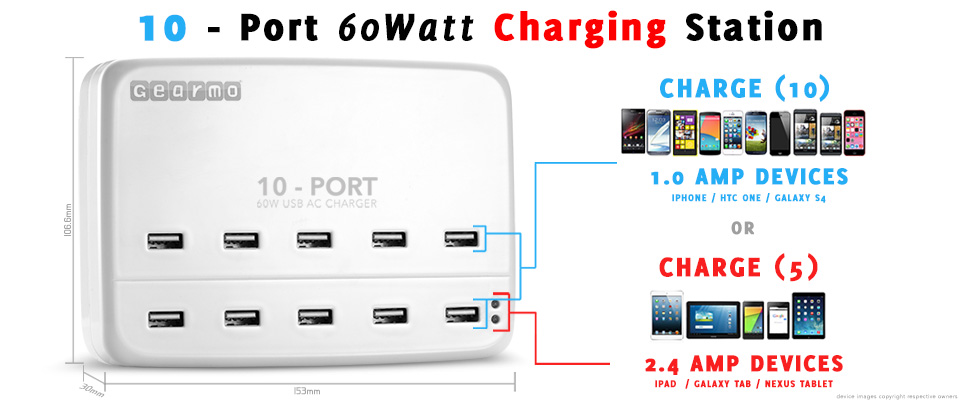 The 10 port USB charger station provides multiple safety functions for protecting the devices you connect to it. Some of these functions include: over current protection, over voltage protection, short circuit protection, and over temperature protection. This device is a USB charging station only and does not transmit data between devices connected to it.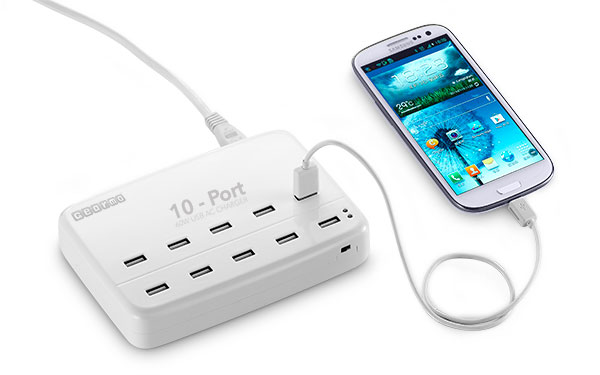 Our power Fast 10 Port USB Charger is controlled by a logic enable input and driven by an internal charge pump circuit. When the output load exceeds the current-limit threshold or a short is present, the uP7534 asserts over current protection and limits the output current to a safe level by driving the power switch into saturation mode.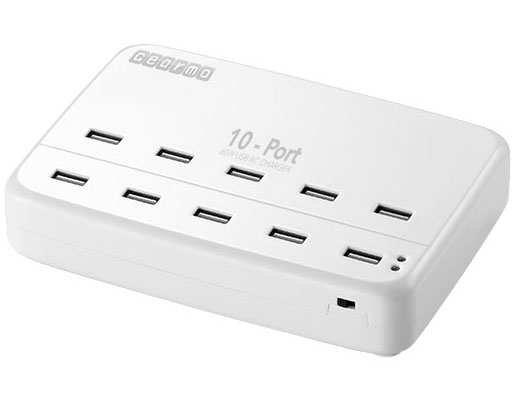 Key Features:
Ultra Compact portable Design
Built-In Power Adapter
Compliant to USB Specifications
High Side MOSFET Switch
Over Current/ Short Circuit Protection
Thermal Shutdown Protection
Slow Turn On and Fast Turn Off
Specs:
Input: AC 100-240V 1.3A 50/60Hz
Output: DC 5V 1A x 10 or DC 5V 2.4A x 5   60 watts
Charge 10 devices at the same time
Dimensions: Length: 153mm Width: 106.6mm Height: 30mm ( 6″ x 4″ x 1.2″)
Net Weight: 11 ounces (0.7 pound)
Compatible charging but not limited for all iPad models, all iPhone models 5/s, 4/s, 3, iPod, Smart phone(Galaxy, Nexus, Droid, HTC ONE, GALAXY NOTE) digital cameras, Bluetooth headsets, GPS (global positioning system), Hero Camera and other USB charger function devices.
We've written a brief blog post about small office USB device demands and high tech solutions for these types of products.
Please note: This product is strictly for charging devices, it does not have data transfer capabilities and therefore is not platform dependent.
Package Contents:
10 Port USB Charging Station

Built-In Power Adapter

5ft Bright White Power Cable
User Manual