Description
EOL
NOTICE
Product reached END OF LIFE August 2016. It is no longer available for sale. There is no alternate or replacement.
The Fast USB 2.0 Infrared Adapter allows a high speed connection of up to 4Mbps between two IrDA compatible devices, which may include your laptop or desktop computer. Handheld compatible devices such as mp3 players, cameras and mobile devices can also be used with the USB 2.0 Infrared Adapter. Using the IRJOY Wireless Adapter will enable the use of infrared on any PC since it utilizes a plug-n-play program function. The USB 2.0 Infrared Adapter offers a very simple and convenient point-and-shoot mechanism that will be very appealing to users who desire wireless technology.
This small USB adapter will change any USB port in to a fully functional infrared port and there are a few advantages that the Fast IrDA (FIR) system provides. It can offer a minimal amount of energy usage, which will keep wireless owners very happy. It also features backwards compatibility with both MIR and SIR infrared devices. It also offers data transfer speeds up to 4 Mbps to offer basic printing, scanning and internet connections quickly and easily. The FIR- IrDA system offers a strong connection between the infrared device and a computer.
The package contains (see picture below):
A USB 2.0 infrared adapter
Driver disc and manual (also available for download)
3 foot long USB extension cable
Technical specs & other features:
Support For Any Standard PC USB Port
Plug-and-Play function makes device easy to use
Can be adjusted for different angles, directions and heights Cable makes it easy to use with notebooks
Power saving modes (Including On, Stand-by and Suspend) Compliant with USB versions v1.1 and v2.0
Compliant with IrDA versions v1.0 and 1.1
This device is fully FCC approved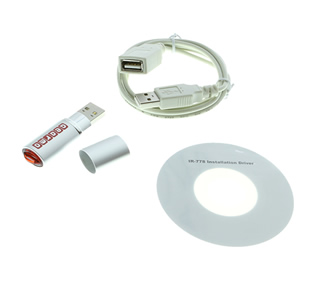 Operating Systems Supported:
Product Specifications:
Product Name: USB 2.0 Infrared Adapter
Product Model: IRJOY
Material: Plastic