Description
The SS-TTL5P USB to TTL 3.3V/5V Auto Sensing Adapter is a USB to Serial UART (TTL Auto level) adapter. It allows you to connect your computer through an available USB port and uses it as a regular serial communication. All USB protocol is handled within this adapter. There is no other device or programming required and supports plug-and-play technology.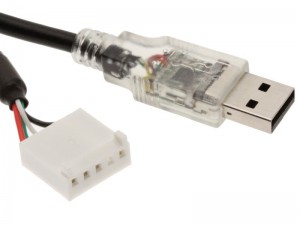 The adapter is perfect for embedded systems that require a serial connection to a computer and is compliant with USB spec. 2.0 &1.1. The board attaches directly to the USB bus via a standard type "A" receptacle connector for upstream data. The USB to Serial UART shows up on any Windows computer as a standard serial COM port. Any applications that talk to this COM port are automatically converted to USB and back to UART to your target board.
Additional Features:
The Cable provides a USB to TTL Auto Sensing Serial interface with various end connectors.
Single board USB to asynchronous serial data transfer interface
Entire USB protocol handled by the electronics in the cable USB
UART interface support for 7 or 8 data bits, 1 or 2 stop bits and odd / even / mark / space / no parity
Data transfer rates from 300 baud to 3 Mbaud at TTL levels.
Auto Voltage sensing
Transmit and receive LEDs
UHCI / OHCI / EHCI host controller compatible
Low USB bandwidth consumption.
5-Pin Header Pin Assignment
Pin 1
VCC
Pin 2
TXD
Pin 3
RXD
Pin 4
Pin 4
GND
OS Support:
Windows 7, 8, & Windows 10
Mac OS-X
Linux
Packages Contents:
USB to 3.3V/5V TTL Auto sensing adapter
Latest FTDI Driver (also available for download)

SS-TTL5P

Product Manual (available for download)