Description

---
GM-482422 USB to RS-422 / RS-485 Converter FTDI Chip with Terminals photoelectric isolation interface converter can convert the single ended USB signal into difference RS422 or RS485 signal. The built-in photoelectric isolator of the USB to RS-422 / RS-485 Converter can provide an isolation voltage as high as 2500Vrms. There is also a rapid transient voltage suppression protector for protection of RS422 / RS485 interface with advanced TVS (Transient Voltage Suppressor) technology.
---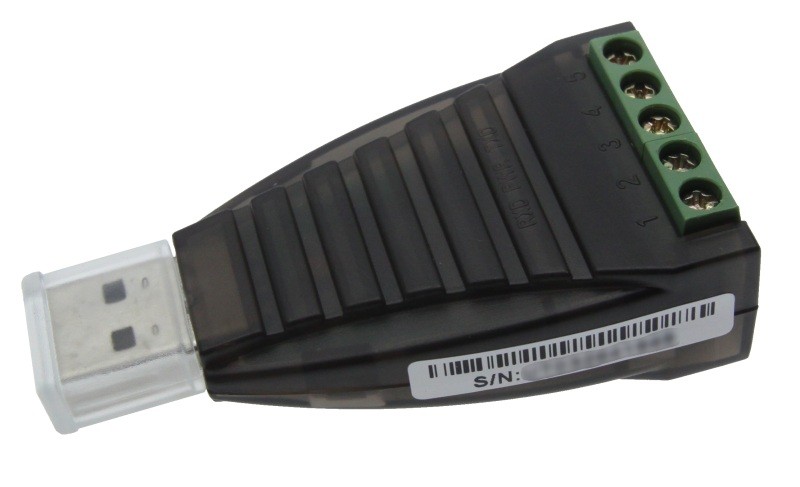 Under normal conditions the TVS tube is in a state oh high resistance. However, when both ends of the TVS tube are hit by transient high energy, the impedance at the both ends can be depressed by the TVS at very high speed. After absorbing a high current, the voltage between the two ends is depressed and kept at a pre-set value; therefore no damage is caused to the electrical components behind the transient high voltage impact.
Package Contents:
USB to RS-422 / RS-485 Converter FTDI CHIP with Terminals
Latest FTDI Driver (also available for download)
GM-482422 Product Manual (also available for download)
---
The protector can effectively restrain lighting or ESD (Electro-Static Discharge) with a protection voltage of 600w on each line for lightning surge and transient voltage events, while transmission of RS-422 / RS-485 is maintained by capacitors between the poles. The unique I/O circuit of the internal zero delay auto transceiver contained in the converter controls the data stream direction automatically without any handshaking signals (Such as RTS, DTR, etc).
The GM-482422 USB to RS-422 / RS-485 Converter is plug-and-play without any jumper settings needed for mode shifting between full duplex (RS-422) and half duplex (RS-485). USB to RS-422 – RS-485 Converter is applicable for all existing communication software and interface hardware. The converter uses an FTDI Chip for its operations and has a terminal based connection.
RS-422, RS-485 data output, connector, and bay-line distribution.
---
| | | | |
| --- | --- | --- | --- |
| Connector and Signal |   |   |   |
| Connection Pole | Data Output | RS-422 Full Duplex | RS-485 Half-Duplex |
| 1 | T/R+ | Send (A+) | RS-485 (A+) |
| 2 | T/R- | Send (B-) | RS-485 (B-) |
| 3 | RXD+ | Receive (A+) | N/C |
| 4 | RXD- | Receive (B-) | N/C |
| 5 | GND | Ground Wire | Ground Wire |
For point-to-multipoint communication, as many as 32 devices of RS-422 or RS-485 can be connected to each converter, and a high data rate of 300bps to 321.6Kbps can be achieved. Power indicator light and dual data traffic indicator lights are also available with USB to RS485 / RS422 Converter for malfunction detection.
---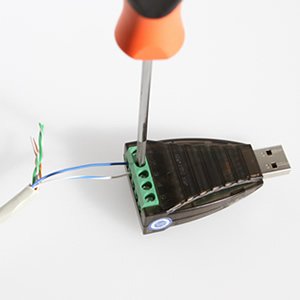 Standards Supported:
USB v. 1.0, 1.1, 2.0
TIA/EIA RS-422, RS485
Additional Features:
RS-485 Signals: T/R+, T/R-, GND
RS-422 Signals: TX+, TX-, RX+, RX-, GND
Supports Windows 7, 8, 10, and 11, Linux, OSX
Modes: Asynchronous, Point-to-Point, Point-to-Multipoint, 2-Wire (Half-Duplex), 4-Wire (Full-Duplex)
Transmission Rates: 300 to 921,600bps, automatic detection of signaling rate
Load Capability: 32 devices in Point-to-Multipoint topology.
Transmission Distance: RS485/422: 1.2km (all rates), USB: 5 Meters
Interface Protection: 600W Lightning Strike and surge suppression, +- 15KV ESD protection
Signaling Diagnostics: LEDs for POWER, TX and RX
Dimensions: 62x33x19 mm
Working environment: -40C to 85C, RH 5%-95%
Chipset: FTDI FT232RL