Description

---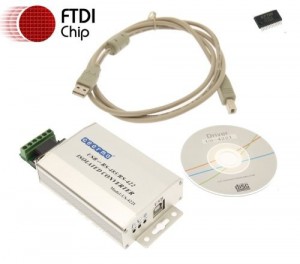 FTDI is supported by Windows 11
USB to RS485 / RS422 Optically Isolated Industrial Serial Adapter converts between USB and other serial device signals. Some USB to serial adapter converter designs have special conversion features associated with the technology, the US-422i USB to RS485 adapter is compatible with RS422 signals.
The USB to RS422 serial adapter standard is an older communication protocol but is still utilized by many modern serial devices. It is often used for personal and office USB to serial adapter devices and recently, industrial applications. Most new computers do not have a COM port so a USB serial adapter is often used to connect many types of devices.
---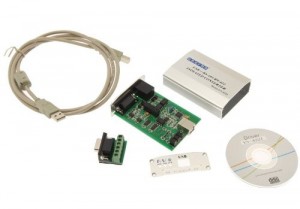 The US-422i USB to RS485 serial adapter is a very useful device for connecting equipment such as serial adapter printers, scanners, scales and GPS devices, but also most serial business and consumer equipment requiring a USB interface. This is a RS485 and RS422 standards compliant adapter.
Many new USB to RS485 serial adapter devices today are designed with multiple variations of serial protocols which makes it very convenient since you then can use it for both RS422 and RS485 products.
The USB to serial adapter protocol itself has been used for many years and is very reliable. The USB to serial adapter is usually used in industrial environments, labs, office, and business; it is also commonly used as a consumer product for connecting USB serial products to personal computers.
---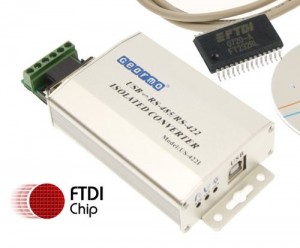 Features & Specifications:
Power 5VDC provided by USB cable
Installation DIN mounts (not included) or screws
Interfaces DB9, RJ45, screw terminal header
Housing Aluminum
Indication lights RX, TX and Power
USB interface compatible with USB 1.1 and 2.0
Baud rate  300bps – 1Mbps
Optical Isolation 2500Vrms / 500VDC isolation
ESD protection  15KV / 600W
Operating Temp. -40 to 85C
---
OS Support:
Windows 7, 8, 10, & 11
Linux
Mac OS 10.9+
Dimensions:
Package Contents:
USB RS485 – RS422 Isolated Converter Unit
USB Type A to Type B Connection Cable
Latest FTDI Driver (available for download)
US-422i Product Manual